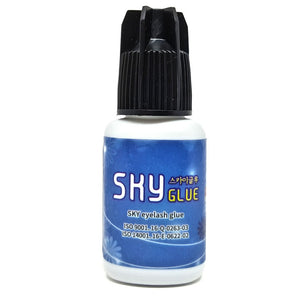 Sky Glue - Type D
Regular price $22.99 $19.99 Sale
***IMPORTANT*** FOR PROFESSIONAL USE ONLY – under no circumstances should you attempt to apply this glue to your own eyelashes. Always perform a patch test on new clients to ensure no reaction occurs.
---
 Sky Glue Type D is the perfect choice for the beginner/intermediate professional individual lash technicians who are looking to hone their craft and develop speed. A slight delay in drying time offers forgiveness when applying the eyelash extensions so you can consistently create a strong bond and superb retention. This adhesive is great for use with both classic and volume lash extensions. 

Sky Glue D provides similar retention performance to Sky Glue D+, but the delayed drying time means it accessible for all lash artists. It's perfect for lash professionals looking for industry leading results that will have your clients coming back time and time again.
► Drying time: 3-4 seconds
► Retention Period: 4-6 weeks
► Color: Black
► Volume: 5ml
► Latex & Formaldehyde Free & Approved by ITQA
► Ideal Application Conditions: 74-82F with humidity of RH 50-70%

Before and during use:
- This glue is not suitable for applying cluster/strip lashes.
- Shake well before use (for 30s – 60s).
- This glue may not be suitable for people with sensitive eyes.
- If glue contacts skin or eyes, flush immediately with water or saline solution. If discomfort continues, seek advice from a doctor.

Storage:
- Once opened, use within 2 months.
- Store upright with cap closed in a cool dry place away from children.