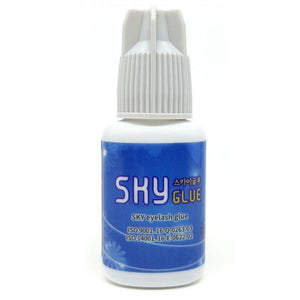 Sky Glue - Type S
Regular price $22.99 $19.99 Sale
***IMPORTANT*** FOR PROFESSIONAL USE ONLY – under no circumstances should you attempt to apply this glue to your own eyelashes. Always perform a patch test on new clients to ensure no reaction occurs.
---
Sky Glue S Type revolutionized the industry when it was first launched, now with a cult-like following it still remains as one of our top selling eyelash adhesives providing superb results for lash technicians worldwide for over a decade.
The quick drying formulation is perfect with both classic and volume professional lash extensions, providing industry leading retention and a flawless finish.
► Drying time: 1-2 seconds
► Retention Period: 5-6 weeks
► Color: Black
► Volume: 5ml
► Latex & Formaldehyde Free & Approved by ITQA
► Ideal Application Conditions: 74-82F with humidity of RH 50-70%

Before and during use:
- This glue is not suitable for applying cluster/strip lashes.
- Shake well before use (for 30s – 60s).
- This glue may not be suitable for people with sensitive eyes.
- If glue contacts skin or eyes, flush immediately with water or saline solution. If discomfort continues, seek advice from a doctor.

Storage:
- Once opened, use within 2 months.
- Store upright with cap closed in a cool dry place away from children.